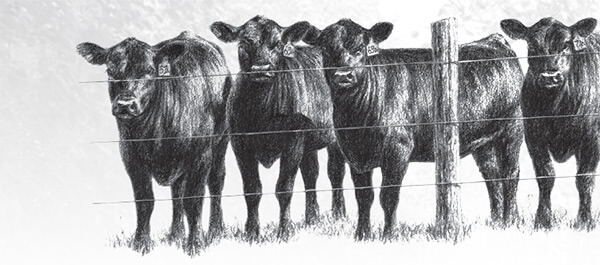 Alabama Angus Association Fall Sale
Fall Sale in Cullman on November 11, 2017.
View sale book
Deadline for consignments September 11.
Cow/calf pairs, bred and open heifers, bred cows and bulls.
Contact Mike McGuire for more information.
Sale Report
Grand Champion Cow/Calf Pair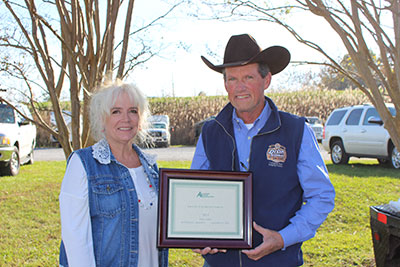 Lot 24: Consigned by McGuire Cattle Company
McGuire Blackcap 504 sired by SAV Momentum 9274 with a bull calf by SAV Brilliance 8077.
Reserve Champion Cow/Calf Pair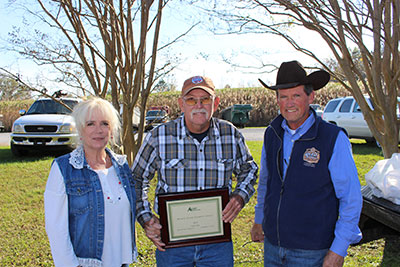 Lot 41: Consigned by SKW Farm
SKW Cheyenne Violet 33 sired by SAV Brilliance 8077 with a bull calf by EXAR Blue Chip.
Grand Champion Bred Heifer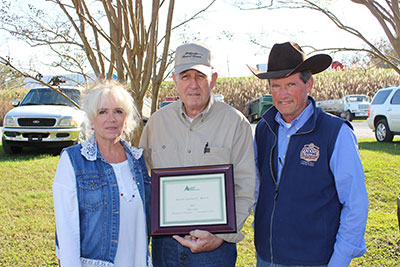 Lot 17: Consigned by Hillside Angus Farm
Hillside Black Pearl 315 sired by SydGen Black Pearl 2006 by Hillside 4037 1613.
Reserve Champion Bred Heifer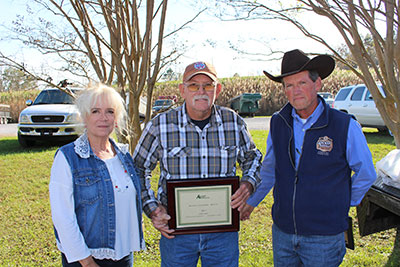 Lot 42: Consigned by SKW Farm
SKW Rita Wix 57 sired by EXAR Blue Chip 18778 by Falls Creek Rita Wix 532.
Grand Champion Bull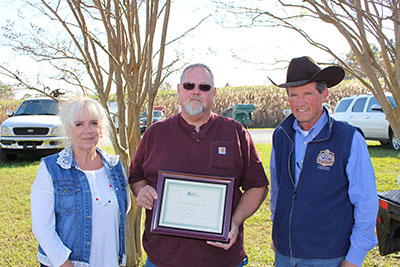 Lot 63: Consigned by Gary Powell
SAF G171 sired by Connealy In Focus 4925 by Hixson's Maria.
Reserve Champion Bull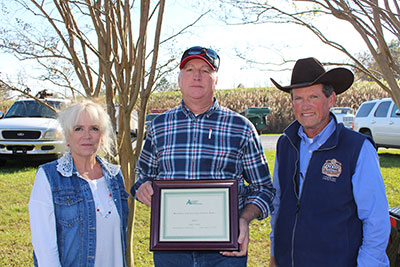 Lot 62: Consigned by Don Lyles
LA Real Deal 1D sired by KCF Bennett Absolute by LA Blackcap Minerva 113.
Top on Auction Block
Top Bull
Lot 63: consigned by Gary Powell and purchased by Elmer Hovator, Russellville, AL
Top Bred Heifer
Lot 42: consigned by SKW Farm and purchased by Don Lyles, Harvest, AL
Top Fall Pair
Lot 24: consigned by McGuire Blackcap 504 and purchased by Vista Farm, Fayette, AL.
---
American Angus Association announces Top Ten Breeders in Alabama
The 10 top recorders in Alabama are:
Vista Farms, Fayette
Chuck Madaris, Hope Hull
Meadow Brook Farms, Larksinsville
Frank V Turner, Hayneville
Adams Angus Farm, Union Springs
Cash Cattle Company LLC, Steele
Tennessee River Music Inc, Fort Payne
Timberland Cattle Inc, Vernon
Bannister Farm, Oxford
Drummond Mine Ranch LLC, Hanceville
---
ALFA Farmers Annual Meeting
Foundation Breakfast Fundraiser Live Auction
10 Units of Basin Payweight 1682 #17038724
Contact Richy Traylor (334) 646-9074
December 4, 2017
---
2017 Officers and Board of Directors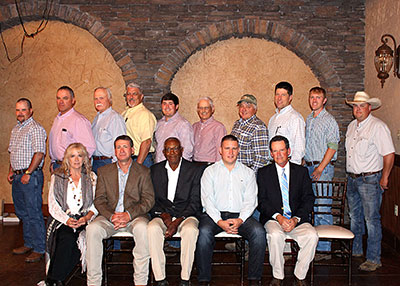 The 2017 Alabama Angus Association Officers and Board of Directors.
Seated from left are 2017 President-Jennifer Lee, Daviston; 1st Vice President-Chris Wisener, Arab; 2nd Vice President-Mr. J.B. Turner, Harvest; Treasurer- Cobie Rutherford, Starksville; Executive Secretary-Mike McGuire, Waverly; and the vacant seat in honor to the late Tim West, 2016 President.
Directors standing from left are Michael Rorex, Bridgeport, AL; Randy Crowell, Elrod, AL; Richard Dyar, Crossville, AL; Len Colvin, Bridgeport, AL; Jay Howard, Oxford, AL; David Osborn, Athens, AL; Robert Williams, Section, AL; Rob Adams, Union Springs, AL; Zane Troxtel, Geraldine, AL; and Craig Bryson, Titus, AL.
Photo by Mark Sims, American Angus Association.
---