Past Events
2011 Events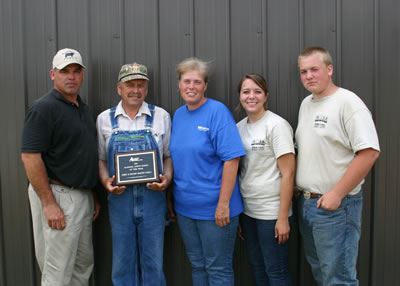 2011 Alabama Angus Family of the Year "Old Spring Farm"
Pictured from left are Randy Crowell, Alabama Angus Association
President, presenting the award to Jerry, Melody, Hannah and
James Barton. Photo by Richard Dyar, American Angus Association.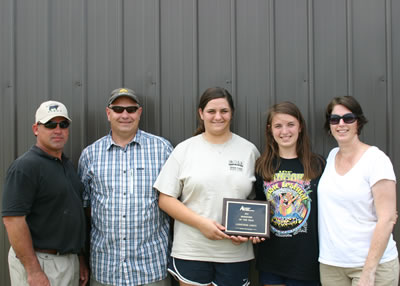 2011 Alabama Angus Breeder of the Year "Lindstorm Angus"
Pictured from left are Randy Crowell, Alabama Angus Association
President, presenting the award to William, Carly, Mary and Lori
Lindstrom. Photo by Richard Dyar, American Angus Association.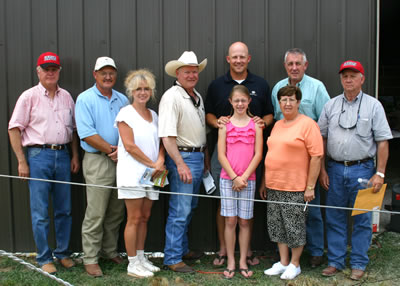 Cattle donated to "Big Oak Boys Ranch"
These Angus members donated cattle to John Croyle, Big Oak Boys'
Ranch, Gadsden, AL at the 2011 Alabama Angus Association Field
Day and Junior Preview Show, June 4 in Woodville, Ala. Pictured
from left are Richard Dyar, American Angus Association regional
manager and owner of Dyar Angus; Steve and Jennifer Lee,
Emuckfaw Creek Farm, Daviston, contributor; Tillman Griggs, Falls
Creek Angus, Falls, contributor; Noel Vice and daughter Amber
Vice, Big Oak Boys' Ranch, recipients; Dale and Judy Parris,
Hillside Angus Farm, Albertville, contributor; and Gregg Blythe,
Macedon Farms, Decatur, Ala., contributor. John Harrell, Harrell's
Highlander Ranch, Opelika, contributor not in picture. Photo by
Richard Dyar, American Angus Association.
Date
Event
Location
June 2011
6/4/2011
Annual Field Day held at Lindstrom Angus
Huntsville
6/25/2011
Lindstrom Angus Dispersal Sale
Woodville
2009 Events
Date
Event
Location
January
1/3/2009
Ray Cattle Co Bull Sale
Hackleburg, AL
1/10/2009
Southeast Alabama All Black Angus Classic Bull Sale
Marianna, FL
1/10/2009
JH Graydon Farm Sale
Montgomery, AL
1/24/2009
Southeast All Black Classic Sale
Marianna, FL
February
2/7/2009
Northeast Performance Breeders Bull Sale
Cullman, AL
2/13/2009 -
2/14/2009
Alabama Cattlemen's Convention and BCIA Annual Meeting
Montgomery, AL
2/14/2009
The Sweetheart Sale - Mid-State Stockyard
Letohatchee, AL
2/27/2009
BCIA EPD Sale
Letohatchee, AL
March
3/5/2009 -
3/7/2009
SLE Rodeo
Montgomery, AL
3/7/2009
Circle B Complete Dispersal Sale - Equipment and Cattle
Union Town, AL
3/8/2009
Daylight Savings Time Begins
3/20/2009
First Day of Spring
3/21/2009
South's Finest Female Joint Production Sale
Cullman, AL
3/28/2009
Lemmon Cattle Enterprises Annual Female Sale - at the farm
Woodbury, GA
3/28/2009
Belle Point Ranch Sale
Lavaca, AR
3/29/2009
Inaugural Stephens Cattle Company Production Sale
Ashford, AL
3/30/2009
Southern Cattle Company Female Sale
Marianna, FL
April
4/10/2009
Bobo Angus Farm Annual Production Sale
Admore, AL
4/11/2009
Ray Cattle Co Production Sale
Hackelburg, AL
4/17/2009
Alabama Angus Annual Meeting
Cullman, AL
4/18/2009
Alabama Angus Spring Sale
Cullman, AL
May
5/2/2009
Windy Hill Annual Sale
Boaz, AL
5/10/2009
Mother's Day
5/16/2009
Southeast Angus Classic Female Sale
Opelika, AL
5/25/2009
Memorial Day
June
6/6/2009
Alabama Angus Field Day
Contact Mike McGuire
6/21/2009
Father's Day and First Day of Summer
July
7/4/2009
Independence Day
7/19/2009 -
7/25/2009
National Junior Angus Show
Perry, GA
August
8/21/2009
Chilton County BCIA Heifer Sale
Chilton Co, AL
8/22/2009
BCIA Ag-O-Rama
Winfield, AL
8/28/2009
BCIA Herd Builder Sale
Chilton Co, AL
September
9/7/2009
Labor Day
9/22/2009
First Day of Autumn
October
No events scheduled in October.
November
11/1/2009
Daylight Savings Time Ends
11/5/2009
Southern Cattle Company Bull Sale
Marianna, FL
11/7/2009
Frank Turner and Sons Sale
Hayneville, AL
11/11/2009
Veteran's Day - Thank you to all who have served
11/13/2009
BCIA Fall Round Up Sale
Montgomery, AL
11/14/2009
Alabama Angus Association Fall Sale
Cullman, AL
11/23/2009
Lemmon Cattle enterprises - Linden Bull Sale
Linden, AL
11/28/2009
Dixieland Delight Sale
Fort Payne, AL
December
12/4/2009
Black and White Bull Sale
Montgomery, AL
12/12/2009
Annual North Alabama Bull Evaluation and BCIA Heifer Sale
Cullman, AL
12/21/2009
First Day of Winter
12/25/2009
Merry Christmas!
2008 Events
April

April 18
Alabama Angus Association Annual Meeting and Banquet
Cullman
April 19
Alabama Angus Association Spring Sale
Cullman

May

May 10
Macedone Farms Sale
Madison
May 17
Southeast Angus Classic Sale
Opelika
May 24
Southeast Heritage Sale
Holly Springs, MS
May 30
Alabama Junior Angus Association Preview Show (evening)
Dothan
May 31
Alabama Angus Association Field Day, Rainbow Angus Farm
Ashford
May 31
Lena Farms Sale
Lena, MS

2007 Events
October

10/14/2007
Eagleview Angus Ranch Dispersal
Cullman
10/20/2007
BCIA Wiregrass Bull Sale
Elba
10/27/2007
Ray Cattle Company Bull Sale
Hackleburg
10/27/2007
Fleming Bull Sale
Horton

November

11/1/2007
Southern Cattle Company Bull Sale
Marianna
11/3/2007
Frank Turner and Sons Bull Sale
Hayneville
11/5/2007
Three Trees Millarden Sale
Millarden
11/9/2007
BCIA Bull Sale
Uniontown
11/10/2007
Alabama Angus Association Fall Sale
Cullman
11/24/2007
Tennessee River Music and Friends Sale
Fort Payne

December

12/15/2007
Pine View Farms Bull Sale
Elba
12/18/2007
BCIA North Alabama Performance Test Bull Sale
Cullman

Alabama Angus Ass'n Angus Tour
June 22-23, 2007
Schedule

June 22

5:30
Tennessee River Music -Evening meal, fellowship, program

June 23

8:00
GENEX -Facility tour
10:00
Bonner Farms -Farm tour
12:00
Greenbriar for lunch
1:15
Macedon Farms -Farm tour
3:00
Bobo Angus Farm -Farm Tour